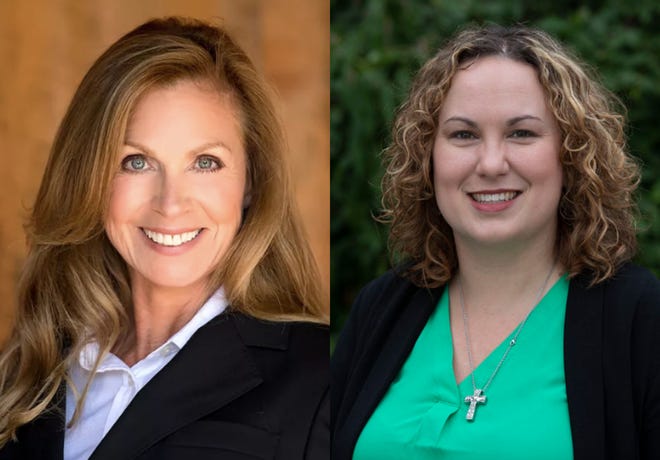 December 15, 2020
AUGUSTA – Local Reps. Michele Meyer, D-Eliot, and Tiffany Roberts, D-South Berwick, will serve as House chairs of key legislative policy panels.
Meyer will chair the Health and Human Services Committee. Roberts will chair the Committee on Innovation, Development Economic Advancement and Business. As Maine navigates COVID-19, and the state's economic recovery, both committees are expected to play a pivotal role.
"The challenges of the historic moment we find ourselves in create a critical window of opportunity to address the immediate crises with a focus on the disparities laid bare by COVID-19, to continue rebuilding crucial public health infrastructure, and to ensure we are advancing policy that reflects our commitment to improving the lives of each and every Mainer," said Meyer, a registered nurse.
The Health and Human Services Committee oversees policy regarding MaineCare, mental health, tobacco sales, medical marijuana, homelessness and public assistance.
"Every single community in our state has been touched by the economic impact of the ongoing pandemic," said Roberts. "Small businesses and working families have been hit hard. It's more critical than ever that our work in the Legislature focuses on making sure Mainers have good jobs that allow them to earn a decent living, support their families and contribute to vibrant communities."
The Innovation, Development, Economic Advancement and Business Committee tackles legislation related to economic development, student debt relief, consumer protection, research and development, and occupational licensing.
Meyer and Roberts were appointed to their respective chair positions by House Speaker Ryan Fecteau, D-Biddeford.
Both lawmakers are serving their second terms in the Maine House. Meyer represents Eliot and parts of Kittery and South Berwick. Roberts represents part of North Berwick and part of South Berwick.
A complete list of legislative committees and their newly appointed members can be found at Committees list.
Contact:
Katie Walsh [Meyer, Roberts], 776-2122