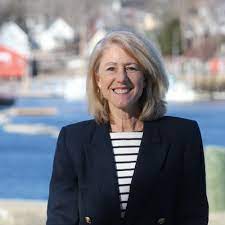 May 10, 2021
AUGUSTA – The Maine Legislature's Joint Standing Committee on Innovation, Development, Economic Advancement and Business unanimously passed LD 1551, An Act To Ban the Sale of Cosmetics That Have Been Tested on Animals, on Thursday.
LD 1551, introduced by Rep. Vicki Doudera, D-Camden, prohibits manufacturers from selling or offering to sell cosmetics in Maine that are developed or manufactured using animal testing. According to the Humane Society of the United States, advocates have been working to address cosmetic testing on animals since the late 1970s. The European Union began the global trend toward eliminating animal testing in 2013, creating the world's largest cruelty-free cosmetics marketplace. In 2018, according to the Animal Legal Defense Fund, California became the first state in the United States to ban the sale of cosmetics newly tested on animals, followed by Nevada, Illinois and Virginia. With LD 1551, Maine has the opportunity to join other states considering the ban this year.
"Not only is the practice of testing cosmetics on animals inhumane, it is unnecessary," said Doudera. "Cosmetics companies have the ability to use existing ingredients with a history of safe use, or, if they choose to use new ingredients, they can choose from a wide range of new non-animal test methods. These new methods not only spare animal lives, but they also represent the best that science has to offer and can provide more relevant data."
During the work session on LD 1551, Rep. Tiffany Roberts, D-South Berwick, House chair of the committee, agreed that the practice must stop.
"This may seem like a feel-good bill, but it actually moves the needle quite a bit," said Roberts. "The federal government needs a push on this issue, and Maine can be one of the leading states that sparks national interest in eliminating the sale of cosmetics that have been tested on animals."
Katie Hansberry, Maine state director of the Humane Society of the United States, noted there is strong support for ending cosmetics animal testing, including from retailers in Maine. "Thanks to LD 1551, our state is part of the growing momentum to stop this unnecessary testing and make our nation a better place for all animals."
Doudera serves on the Legislature's Environment and Natural Resources Committee and represents the towns of Camden, Islesboro and Rockport. Roberts serves as House chair of the Legislatures Innovation, Development, Economic Advancement and Business Committee and represents the towns of North Berwick and South Berwick.
Contact:
Jackie Merrill [Doudera, Roberts], c. 812-1111